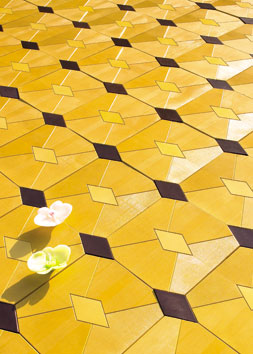 Cheerfulness keeps your life
hale & healthy forever. The
beauty of the pure geometry,
the symmetry, minimalism and
art decor styling combines
technical excellence and
aesthetics in equal measures. It
complements a variety of
design styles covering classical
and modern, with beautiful
colors. This spectacular pattern
leaves your guests awestruck,
reflecting your Vivid
personality.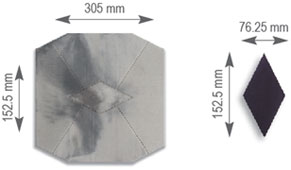 Type
: Floor Tile - Combination
Area -Ditex
: 0.94 Sq.Ft./ Area per Box : 3.76Sq.Ft.
Area - Elita
: 0.06 Sq.Ft / Area per Box : 4.32 Sq.Ft.
Applications
: Foyer areas, Sitouts, Porticos, Office Floors and Lounges
Recommended
Colours - Ditex
: Silver Grey & Dove Grey, Yellow (As in picture), Terracotta, Terracotta & Black,
Recommended
Colours - Elita
: Black, Nut Brown (As in picture), Terracotta
Colours for Floor Tile Series
Few Patterns
Next Tile