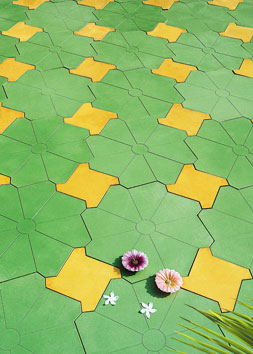 The powerful lines of this pattern
radiate abundance of energy and
rhythm.
Awesome can be gracefully
combined with Blossom
echoing the beat of art deco.
Depending on the laying
pattern, it can either play
classical or contemporary
role to suit your swinging
moods. Let Awesome -
Blossom enrich you with its
fluid lines singing, swaying
in tune with your body
rhythm.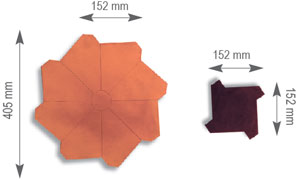 Type
: Floor Tile - Combination
Area -Blossom
: 1.20 Sq.Ft. / Area per Box : 4.80 Sq.Ft.
Area - Awesome
: 0.25 Sq.Ft. / Area per Box : 4.00 Sq.Ft.
Applications
: Foyer areas, Sitouts, Porticos, Office floors and Lounges
Recommended
Colours - Blossom
: Saffron & Terracotta, Green, Terracotta, Terracotta & Black
Recommended
Colours -
Awesome
: Nut Brown, Black, Terracotta, Yellow
Colours for Floor Tile Series
Few Patterns
| | |
| --- | --- |
| | SL / TC / NB |
| | SL / TC / SL |
| | SL / NB |
Next Tile