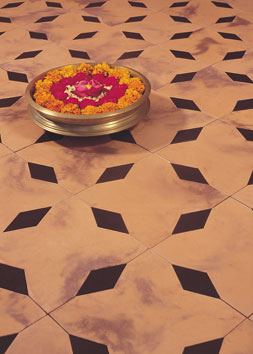 Four point star - an
archetypal symbol of
transformation....
protects like a guardian
angel. Feel the calmness,
tranquillity and meditative
qualities of this beautiful
combination. The cool
strength and pure geometry
with its arresting visual
appeal can numb your senses
and let drift you into a world
filled with peace and
comfort.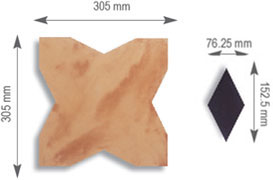 Type
: Floor Tile - Combination
Area -Danica
: 0.88 Sq.Ft. / Area per Box : 3.52 Sq.Ft.
Area - Elita
: 0.06 Sq.Ft. / Area per Box : 4.32 Sq.Ft.
Applications
: Foyer areas, Balcony, Residential / Office floors and Lounges
Recommended
Colours - Danica
: Light Yellow & Dark Yellow, Green, Skin & Dark Beige, Terracotta & Black, Saffron & Terracotta
Recommended
Colours - Elita
: Yellow, Black, Terracotta, Nut Brown
Colours for Floor Tile Series
Few Patterns
| | |
| --- | --- |
| | TC / NB |
| | SL / SG & DG / BK |
| | SL / NB |
Next Tile